<![CDATA[

This summer I planted seven tomato plants, all different kinds. I have Old German Heirlooms, Snow White Cherries, Yellow Cherries, Romas, Early Girls, Big Boys, and Yellow Brandywines. I have picked SO MANY tomatoes. I would say every two to three weeks I am picking at least two pounds! I have been using the tomatoes for salsa, ceviche, sandwiches, tacos, salads, etc… Yesterday I picked about five pounds, and decided to finally attempt to make sauce. I have never done that before with fresh tomatoes, so I was nervous about the peeling part. Turns out, it's super easy!

I decided to only use the red tomatoes, which came in at slightly under four pounds.

Start by getting a large pot of water boiling on the stove. Prepare a large bowl with an ice bath. Wash your tomatoes, and cut X's into the bottom of each of them.

I dropped about 4 or 5 at a time into the boiling water. For the larger tomatoes I boiled for 25 seconds and that was perfect. For the smaller ones, 20 seconds did the trick. If you do it too long, the tomatoes will start to cook and get mushy, so try to avoid that. Remove the tomatoes and immediately put them into the ice bath. They will cool off in a few seconds. Peel them and place them in a bowl. The peels (and any remaining stems) literally fell off, there was little effort on my part with this process.
Since I wasn't ready to make the sauce yet, I covered them with plastic wrap and threw them in the fridge where they sat for about two hours, they kept just fine. I am no expert, so I have no idea how long you could let them sit like that before using them.
My recipe for marinara was based on ideas I read on different websites, along with using what I had around the house/garden.
4 lbs tomatoes, peeled – I used Roma, Big Boy & Early Girl, so use what you have!
2 tbsp olive oil
1 Vidalia Onion, chopped
8 garlic cloves, minced
1/2 cup Merlot
1 tbsp honey
4 sprigs fresh basil
4 sprigs fresh oregano
1/2 tsp red pepper flakes
2 tbsp balsamic vinegar
Salt & Pepper to taste
I had read that using whole tomatoes without seeding them made too watery of a sauce. So, I squeezed the juice out of about half of them. Just take the tomato over the sink, and squeeze. Juice and seeds will come out. I don't think you need to squeeze everything out, but if you are trying to get a thicker sauce, it's worth doing this to them.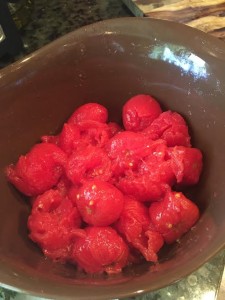 Heat the olive oil in a pot. Add the onion and garlic, sauté for about 3 minutes over medium high heat, until they have softened and are starting to get some color. Add the tomatoes, whole, with a pinch of salt. You don't need to chop them. Let them simmer over medium heat for 30 minutes. Stir occasionally, they will start to break down over time, you can use a wooden spoon to help break them down if you need to.
After 30 minutes you will have a nice sauce, the tomatoes will have broken down almost all the way. Add the wine, honey, basil, oregano, red pepper flakes, and some salt and pepper. You can add more salt and pepper later to taste, just add about 1/4 teaspoon of each at this point. Stir to combine, bring to a simmer, and allow to simmer for another 30 minutes, while stirring occasionally.
Once the 30 minutes are up, fish out the herb stems and discard. Add the balsamic vinegar, otherwise the sauce will be too sweet. Taste and season with salt and pepper to your liking. I personally felt the sauce was too chunky, so I chose to use my immersion blender to make a smoother sauce. Once I did that, it was perfect to me.
I ended up making some Italian sausage and mushrooms, added to the sauce and served over spaghetti. This made enough sauce to go with one pound of pasta. There was enough for us tonight, leftovers for lunch tomorrow, and some to freeze for use in the future.
]]>