こんにちは! Konnichi wa! Hello, there!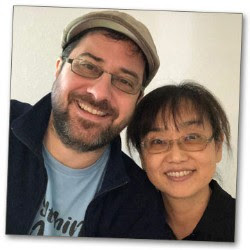 Clay and Yumi here producing Makoto! a monthly e-zine for beginner to intermediate learners of Japanese. It is a digital magazine with all the good stuff not usually found in textbooks. It has articles on Japanese grammar, kanji, culture, and art. Each issue will also include a complete short story with a running gloss, grammar explanations, and two MP3s of the story (normal speed and slower).
Visit our sites TheJapanesePage.com and TheJapanShop.com. Also support us on Patreon here TheJapanesePage.com Patreon – Each month, Patreon supporters will receive exclusive content and deals from both. For nearly two decades, we have produced articles, podcasts, videos, smartphone apps, eBooks, paperbacks, audiobooks, and courses to help you learn Japanese. 
Do you love reading Mystery and Thriller stories? Our very own, Clay Boutwell writes these genres of stories. Check it out here –  Clay Boutwell