some random info on propane powered campfires...
Camco Folding-Leg Propane Campfire
Lichen has been ever so kind as to bring his propane powered campfire a few times for us during fire bans or when it was otherwise difficult to have a wood campfire. i think it's
this model...
Big/Little Red Campfires
then on the recent
Anza-Borrega trip
, Bradywgn71 & Kaspily brought their
Little Red Campfire
too.
there's also the
Big Red Campfire
which appears to be the same as its little brother just with a larger diameter.
Comparisons
here's a photo from Kaspily showing Lichen's foldable leg version in the foreground and the Little Red Campfire behind it.
i think the Little Red Campfire's bottle was nearly empty in that photo, so it's not a true comparison.
the Red Campfires have ceramic fake logs to help radiate some heat whereas the other Camco product includes natural lava rocks for that purpose.
the folding-leg version seems to produce more individual flames while the Little Red version can really put out a few tall flames when cranked all the way up.
Using with 1lb Bottles
all the products i mentioned come with connectors meant for the standard 20lb propane tank, but will run on the little green 1lb disposable cylinders with
an adapter
.
in online reviews, some folks reported getting up to an hour with those 1lb bottles. our experience has been that if it's below 60*, the bottle can freeze up after 30 to 45 minutes. putting the bottle in a decent sized pot of water may get you the full hour but will freeze the water with the bottle stuck in it.
all three products are adjustable and all are rated at a maximum of 65,000 BTU/hr. the Red Campfires have a somewhat traditional regulator with the adjusting knob built into it. the folding-leg campfire has the adjuster after the regulator. that one seemed to freeze up faster than the Little Red Campfire, so perhaps having the adjustment at the regulator is better?
Alternatives to 1lb Bottles
i'm considering buying a Little Red Campfire myself, along with this
Coleman Gemini Powerpack
dual bottle adapter. this should help with the freezing problem and also has a standard larger tank output on it so i wouldn't need the other adapter i mentioned.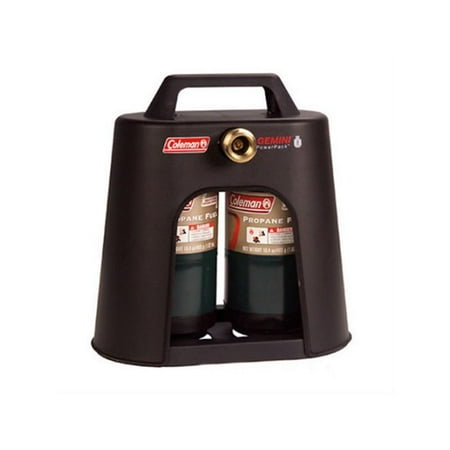 of course a refillable larger bottle is the best thing, but sometimes it's hard to find time to get everything ready before a trip and so being able to pick up the small bottles is handy. i could probably find room for something like a
Viking 11lb composite tank
, or even a standard steel tank in
4.5
or
5 pound
size.
Pros/Cons & Final Thoughts
the biggest problem with these, besides space to store the device and propane, is the amount of heat they put out. on high they work fine for a very small group, say 10 or less people... but if the circle gets much bigger than that you're not going to be able to feel the heat from several feet away.
besides having a fire during a ban though, IMO the best thing about a propane campfire is not smelling like smoke at the end of the night. sure there's something alluring about the smell of a real campfire, but having your clothes, sleeping bags, and tent all smell like smoke can get old - especially if you have allergies.
on last thing i have to mention is this great thread on Expo Portal about how to make your own out of an ammo can and some copper tubing:
https://expeditionportal.com/forum/t...irepit.174849/