Today's Top Lacrosse Videos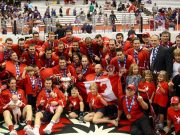 Canada Lacrosse has officially accepted the resignations of Dean French, Dave Huntley, and Johnny Mouradian. This is a big change for the CLA.
The big Rochester Rattlers possible relocation news, which has been developing for well over a year, is now fact. MLL is headed to Dallas!
Training alone helps, but does it help the team? Get teammates involved to build a better squad.