Investigation: Ambulances Could Have Responded to Injured D.C. Officer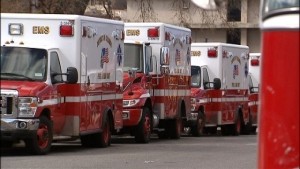 WASHINGTON (WTTG) – FOX 5 has obtained the initial findings of an investigation into the March 5th ambulance response for an injured D.C. police officer.
Sean Hickman waited at least 20 minutes for an ambulance that eventually came from Prince George's County. The Sixth District officer was on a scooter when police say he was intentionally run over by a man in car.
Sources familiar with the investigation say two ambulances should have been able to respond, but did not for reasons still unclear, and a third may have gone out of service by mistake.
The findings are expected to be made public Wednesday morning at the mayor's bi-weekly news conference.
Sources familiar with the investigation say when the initial call for service went out at 6:36 p.m. that night, one ambulance was in quarters east of the river and near the scene of the accident, but did not respond even though the crew was told to monitor the radio.
Sources say Medic 27 went out of service for equipment trouble and parked at a fire house on Minnesota Avenue in Northeast D.C. when the call for the hit-and-run came in.
The crew went out of service at 6:27 p.m. after reporting problems with two batteries in a piece of equipment on the rig.
At 6:36 p.m., an engine with a paramedic was dispatched to the hit-and-run at 46th and A Streets in Southeast while communications searched for an ambulance.
Sources say a second crew, Medic 19, was at Howard University Hospital and asked for a delayed response back to quarters on Pennsylvania Avenue, SE, and went out of service at 6:34 p.m. after being also told to monitor the radio.
The call for the hit-and-run came in two minutes later.
A third crew, Ambulance 15, went out of service for 53 minutes from 6:26 p.m. to 7:19 p.m.
According to the crews' own account, it was a mistake. They entered the wrong information into the rig's computer and put themselves out of service.
20 minutes after the initial call for help went out, Ambulance 15 was still parked at a fire station on New Jersey Avenue, NW.
"It was a computer error," says Union President Ed Smith. "They lost them in the system. Once the employees realized there was a problem, they self-reported the problem and then they were dispatched on another run."
Smith says the firefighters realized their mistake when they heard a call for service over the radio that should have been given to them.
"They heard a run coming out that they thought they would be responsible to take and that's when they realized there was a problem and self-reported to dispatch," said Smith.
Sources familiar with the report say 39 ambulances were on duty that night, with nine out of service at the time of the call for the injured officer.
The investigation has discovered six of those transports were legitimately out of service with mechanical problems.