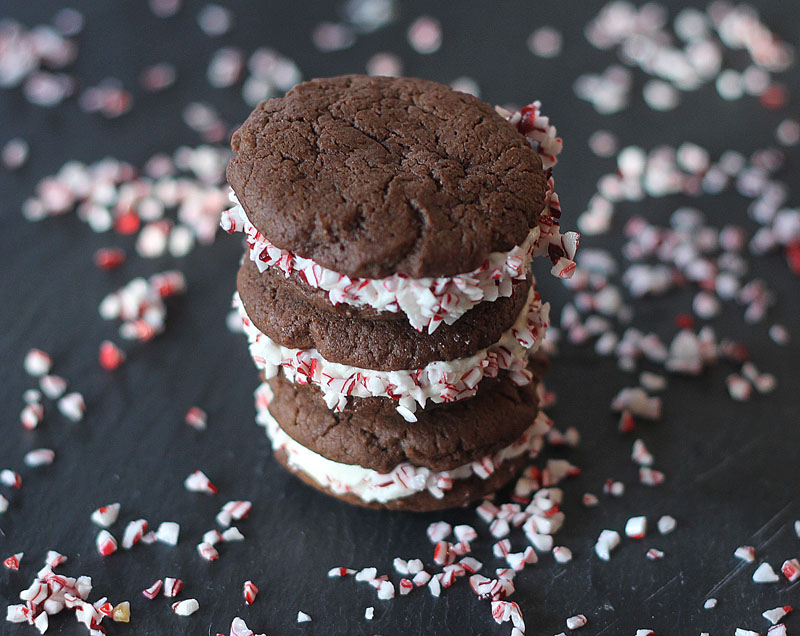 Happy New Year! I can't believe that 2015 is here. 2014 has been a pretty great year, but I am even more excited about what 2015 has in store. Before we start on our healthy new year resolutions, I thought I would leave you with one last cookie recipe. Because you really can't start your new resolutions on a Thursday. That would be weird. Resolutions, healthy habits, diets – all of these things start on Mondays, right? So for now, we can continue to eat cookies!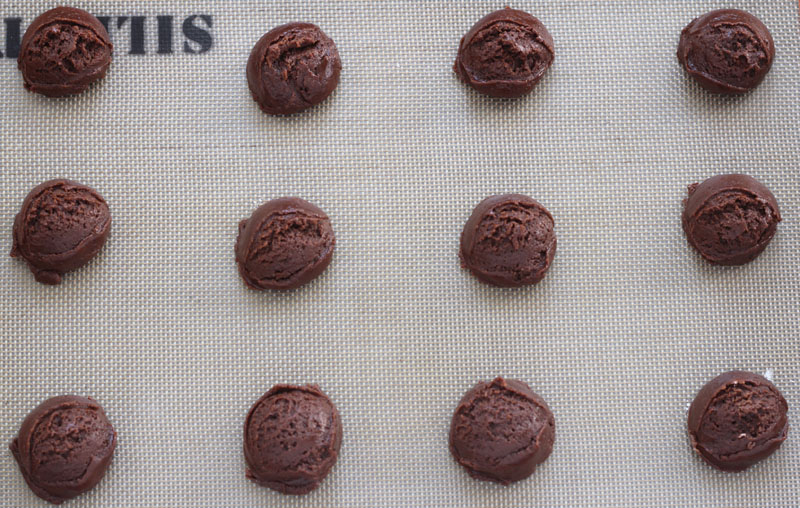 Plus, chocolate and peppermint is one of my favorite combos, and I am not ready to leave it behind with the month of December. Not only are these super tasty, but they are also super festive! If you are stuffed full of cookies from the holidays, pin these for later. You can sub colored sprinkles for the candy canes for a non-holiday treat!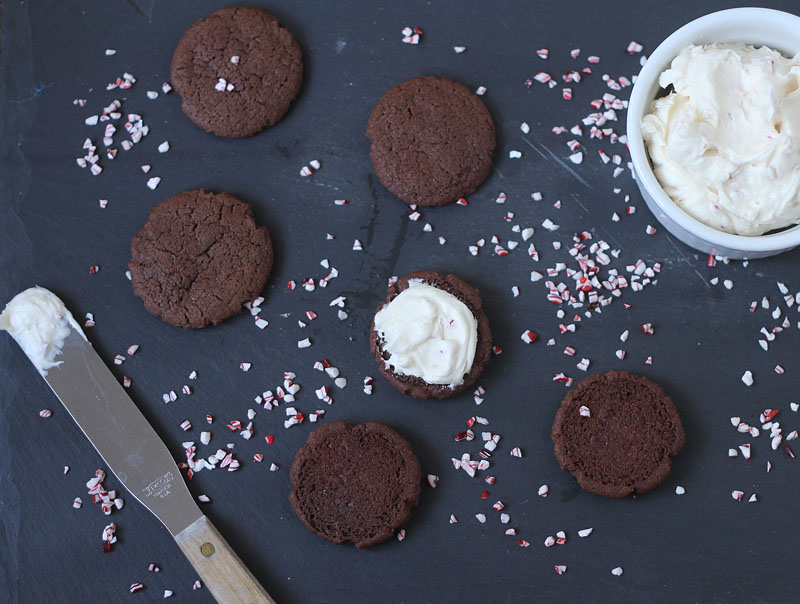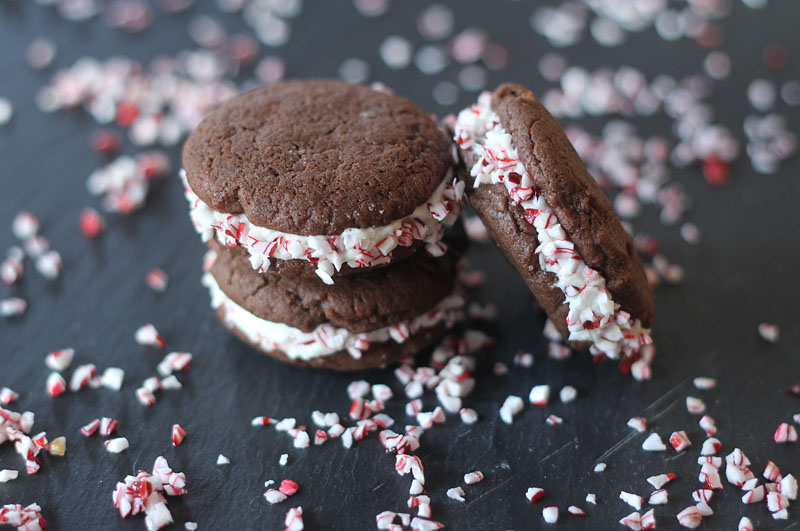 Chocolate Sandwich Cookies with Cream Cheese Buttercream and Candy Cane Crush
1 1/2 cups flour, lightly spooned into measuring cups and leveled
3/4 teaspoon baking soda
1/4 teaspoon kosher salt
1/2 cup semisweet chocolate chips
1/2 cup dark chocolate
3/4 cup packed light brown sugar
5 tablespoons real butter
1 tablespoon water
1 large egg lightly beaten
Cream Cheese Buttercream
1/2 lb cream cheese, softened
1 stick unsalted butter, softened
1 cup powdered sugar
1/2 tablespoon pure vanilla extra
pinch of salt
Crushed Candy Canes for Rolling
For the Cookies:
To make cookies, preheat oven to 350 degrees. Line 2 baking sheets with parchment paper. Combine flour, baking soda, and salt in a medium bowl. Heat chocolate chips, brown sugar, 5 tablespoons butter and water in a heatproof bowl in the microwave in 30 second increments (stir thoroughly before microwaving again). OR heat in a medium saucepan over low heat stirring constantly (sugar will not fully dissolve). Transfer mixture to a large bowl and let cool slightly. Once cool, beat in egg. Stir in flour mixture until just combined. Don't overmix.
If dough is too soft to work with, let it sit at room temp for a few minutes to firm up, or place in the fridge for a few minutes. Gently roll balls, either 1 tablespoon full for large cookies, or about 1/2 inch balls for silver dollar sized cookies. Place about 2 inches apart on prepared baking sheets. Bake cookies until just puffed in the middle and edges are set but centers are still soft. About 8-9 minutes for large cookies, and about 5 minutes for small ones. If using 2 cookie sheets, rotate them half way through baking. Cool for a couple of minutes on the baking sheets and then transfer to a cooling rack and let cool completely.
For Cream Cheese Buttercream Frosting: 
In a large bowl using an electric mixer, beat all of the ingredients (except candy canes) on medium speed until smooth.
Spread about 1-2 tablespoons of frosting in the middle of one side of cooled cookie. Place another cookie on top and press until frosting reaches the edges. Roll the cookie in the crushed candy canes. Repeat with remaining cookies.
I found it almost easier to press the candy cane pieces into the edges of the cookies but rolling is a little cleaner. Enjoy!