This post was originally published in 2015 and has since been updated.
My son is only two years old, but I'm already looking forward to all things I'll teach him about my trade. Unfortunately, the things I work with aren't necessarily cool. Sure, blogging and the occasional graphic design is fun, but it's not nearly as badass as making knives.
A select few fathers and sons have traded thoughts and ideas surrounding knives, and some have even collaborated on designs.
Since it's the time of year when fathers and sons get together, we decided to take a look at the father and son duos in the knife world. Let us know in the comments if we made any glaring omissions.
Michael and Baltazar E. Martinez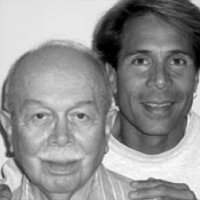 Michael, along with his father Baltazar, invented a number of items over the years, but what they were best known for was the CRKT Ultima Fixed Blade. Michael Martinez is a sculptor, inventor, and martial artist who helped reinvent the fixed blade with the Ultima.
Here's what Michael said at the CRKT site: "In my edged weapons training, I kept noticing how many knives didn't feel right, didn't have a grip that gave both control and comfort in the four fundamental tactical grips."
His father, who was a mechanical engineer working on classified nuclear system design for the defense department for more than 30 years, contributed to the project by injecting his own design into the knife.
The result was a knife that achieved 22 out of 23 ideal contact points with its comfortable handle. Even though this father and son duo is mainly known for designing this one knife, they definitely deserve some recognition.
Sal & Eric Glesser
Few knife makers have brought such innovation and legitimacy to the knife world like the legendary Sal Glesser. Sal—the founder of Spyderco—not only pioneered features like the pocket clip, serrations, and ambidextrous opening hole but he's also a very down to earth guy. You can find him frequenting knife forums and answering people's questions with honesty and modesty. He designed the Delica, Endura, Military, Persistence, and many others.